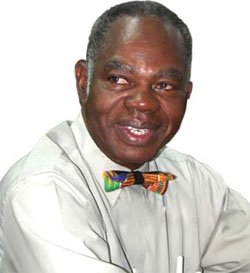 Dr. Edward Nasigri Mahama, 2016 PNC Flagbearer.
President Akufo-Addo has appointed the 2016 Flagbearer of the People's National Convention (PNC), Edward Nasigri Mahama as an Ambassador-at-Large.
He was among 21 others who have been appointed to represent Ghana as diplomats in other countries.
They were all sworn in by the President, Nana Addo Dankwa Akufo-Addo on Monday.
An ambassador-at-large is an ambassador with special duties but not appointed to a particular country.
Others who were also part of the 22 sworn in include former Attorney General, Ayikoi Otoo is to represent Ghana in Canada, George Ayisi Boateng; South Africa and Mercy Bampoe Addo for Malta.
Others include Salma Francess Mancell-Egala; Turkey, Paul Oko; Egypt, Kwasi Owusu Yeboah; Togo, Miss Sophia Horner-Sam; Netherlands, Mrs. Amerleey Olennu; Denmark, Mrs. Elizabeth Salamtu; Namibia, Gen. Francis Adu-Amanfoh; Mali.